Wendy Stuart
Ventriloquist Comedian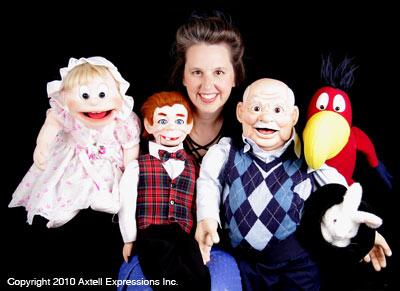 Wendy Stuart is a comedy actress, singer and writer that has been doing ventriloquism since 2006. She put all her talents together and launched a creative comedy show with her puppets in April 2012. This show is called "Senior Moments" and it's perfect for corporate entertainment, as well as seniors entertainment. Wendy acts different characters with her puppets which is very unique. She launched a new show in November 2013 called "Second Hand Surprise." This recycling show is ideal for all ages. It is perfect to hire for school entertainment, seniors, children's parties, a community events performer etc. Both shows are available for booking. Check out the shows page for details.
This talented entertainer performs with very high standards and is anti-swearing. Anything she is involved with is 100% family friendly. This comedian hopes to perform her shows on a cruise ship someday. She is also interested in writing and performing in commercials. Wendy is travelling from Surrey, which is a suburb of Vancouver B.C.
For booking inquiries, please email funnyvoices@shaw.ca or call Wendy at 604-355-7469.