Wendy Stuart - Comedy Ventriloquist Shows
Second Hand Surprise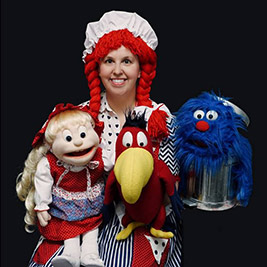 Wendy launched an additional show in Nov 2013 called "Second Hand Surprise" This entertaining musical ventriloquist show contains a recycling theme. It is great for all ages from 1 to 101! You are never too old or too young to reuse and recycle. It is perfect for school entertainment, seniors, children's parties, community events performer etc. There are a lot of positive messages in the show. At one point in the show, Roscoe is feeling sorry for himself because he is blue and he doesn't want to be different. Roscoe gets assured that everyone is special, no matter what colour they are! Then he starts to embrace and enjoy being blue. Wendy has also mastered ventriloquist yodeling, which is extremely impressive! In fact, a yodeling parrot is featured in this show! That alone is amazing to watch! An 8' by 10' area is needed to perform the show.
Please note that Wendy does not allow her puppets to be around food. If refreshments are being served, they should be either before or after the show. (Preferably after) If food is served before, please make sure that all hands and faces are clean and sticky free:)
Wendy is travelling from Surrey which is a suburb of Vancouver, B.C. This entertainer hopes to perform her shows on cruise ships someday. Prices will vary depending on location and audience size. The show is available for booking. Please contact Wendy for a quote!

Senior Moments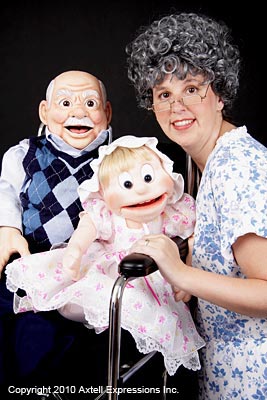 Wendy Stuart is a very talented comedian ventriloquist. This entertainer has launched her own comedy show in April 2012 called "Senior Moments!" Her ventriloquist act is very unique because she is an actress, and plays different characters with her puppets. In this show she plays a granny named Helga, and also a nurse (see a photo on the contact page). The puppets featured in this show are Helga's bratty "granddaughter" Molly and Grandpa Henry. Wendy performs with very high standards, so all her material is 100% clean and has absolutely no swearing in it.

Book this hilarious show that pokes fun of the joys of aging! This entertaining comedy show is guaranteed to make you laugh. It's perfect to hire for retirement parties, milestone birthdays, senior's centers, opening acts, fundraisers, and especially for corporate entertainment. The humour in the show will be especially appreciated by adults who can relate to the aging humour. (Being forgetful etc.) Senior Moments is available for booking! There will be a 4' x 4' dressing tent on stage, so Wendy does need a 12' wide by 8' deep stage area, to perform the show. Prices will vary depending on location and audience size, so please contact Wendy for a quote.
For booking inquiries, please email funnyvoices@shaw.ca
or call Wendy at 604-355-7469.